What We Do
Production Paint Stripping Limited provides industrial coating removal services, which includes stripping paint and residue from a variety of parts, including paint tools, fixtures, hooks, jigs, and racks. This process is important so that the parts can be reintegrated into your production line without any delays.
The expert team at PPS is proficient in a wide variety of cleaning methods and apply the correct procedure to avoid damage to the underlying structure.
Our commitment to quality control includes inspection of parts before and after they have gone through the coating removal process. We also offer washing and rust protection so your parts return to you looking as good as new.
Multiple Backup Solutions

Services
PPS Limited offers industrial paint removal and finishing services, including:
Chemical Stripping
The preferred method for removing paint from parts that are sensitive to high temperatures.
Chemical paint stripping uses industrial-strength chemical processes to weaken or break down the bond between the paint and the metal surface.
Any paint remaining after several hours in the chemical bath is removed with high pressure water jets.
Strong enough to deal with extremely tough adhesives
Prevents damage or distortion to the metal structure of parts that are sensitive to high temperatures
All parts receive a final quality check before being shipped
Thermal Stripping and Powder Coating Burn-Off
In this process, components are heated in furnaces, with specified temperature ranges, depending on the type of surface, and materials being removed.
Parts are treated afterwards, to remove ash and residue. We then apply a thin layer of water-soluble inhibitor.
4 to 5-hour long process with temperatures reaching 850°F
Controlled environmental emissions
All parts receive a thorough quality check before being shipped
Plastic Media Blasting
Plastic Media blasting uses soft, angular particles to effectively remove paint from delicate surfaces without causing damage. This method uses considerably lower pressure and stress to the material surface than other abrasive blasting techniques.
In addition, the plastic media can be collected and reused, making it an environmentally-friendly alternative to other industrial cleaning methods, and reducing the amount of hazardous waste.
One of the more popular techniques due to the combination of effectiveness and low risk of damage
Used for de-flashing, de-burring, removal of powder coating, mold cleaning, cleaning of engine parts and paint stripping
Should be used in ventilated areas
Steel Grit Blasting
This method of abrasive blasting aggressively cuts through coatings while also leaving an etched surface to better prepare it for adhesion of a new coating material.
Steel grit is available in varying types and degrees of hardness that can be selected based on the material being blasted and the end goal.
Effective both for coating removal and as a surface preparation process
A highly adaptable process depending on the material being blasted
Rust Removal
This immersion pickling process provides a clean, blush free surface optimal for re-finishing.
Rust Protection
The rust prevention process extends the lifetime of machinery and production parts. We offer rustproofing and corrosion resistant coating services as part of our surface preparation services.
Improve the longevity of your production parts
Maintain quality standards
Our Processes
We work with you to identify the most effective way to clean and prepare your parts for re-use. Our extensive experience with metal surface preparation allows us to find the perfect solution for every challenge.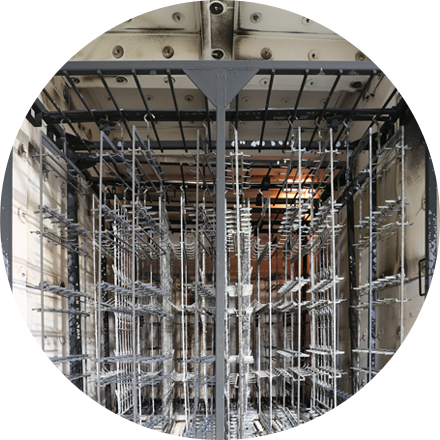 Thermal
Parts that aren't sensitive to temperature can be cleaned effectively in one of our thermal furnaces, which reaches temperatures of up to 850 F. After paint and other debris is burned away, we treat parts to remove any residue and prepare them for re-use.
Chemical
We use chemical baths to treat materials that may weaken or distort under high temperature. After immersion, parts are then sprayed and treated as needed.
Media Blasting
Media blasting can be used to give a greater amount of control than alternative cleaning methods and to avoid the risk of damage. We choose between varieties of plastic or steel grit when blasting, depending on the surface being cleaned.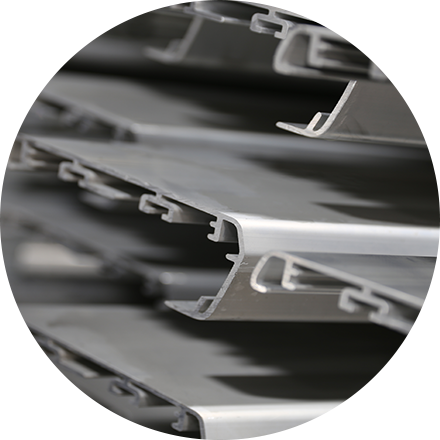 Parts Washing
Industrial parts washing can be used to efficiently clean products in bulk and to break down accumulated dirt, oils and corrosion on metal paint hooks, fixtures, jigs and racks.
Freight
We keep your business running on schedule! Our fleet of trucks and backup solutions means that your products will always be ready and waiting for use, avoiding any costly downtime.

Service Provided
Purge Pot Top Cleaning
Problem
The current on-site cleaning process was manual, which took a lot of time and caused potential damage to a very expensive piece of equipment.
Solution & Outcome
PPS was able to clean these tops efficiently, without causing damage saving the customer thousands of dollars annually.